You might have heard me say that this year, I joined a Book Club – where the plan was to read 12 books in 12 months. The list of the books was already chosen, so I've been following along and reading the proposed titles.
There have been some pleasant surprises and a couple of not-for-me 🙂
This week, I started reading the August book. Yes, I know, we're very close to the end of the month, and our book club meeting is on Sunday! (that is today when I'm publishing this post). Not that I leave everything for the last minute, only some things. But I've been focused on something else lately.
As usual, I didn't know what the book was about. So I downloaded the title on my kindle and started reading.
And from the start, I realised this is a story about a cancer patient, written by him. My first thought was: ugh, I don't want to read this – Not because I don't care. Quite the opposite.
These days, I've been supporting my good friend through her second time going through cancer. Additionally, my mom has been heartbroken because someone close to her is suffering because of cancer too. Cancer is everywhere; I wish it didn't exist!
Especially when I know most cases could be avoided – I don't say this. Science does.
Back to the book, this guy in the book is 43 years old and has a younger wife and small 3 kids…So I was like, hmm, not sure. I hate drama. I resist drama. And I know exactly why, but that's another story.
As I continued reading through the first chapters, this seems to be a beautiful and entertaining story. In case you're wondering, the book is The Last Lecture by Randy Pausch.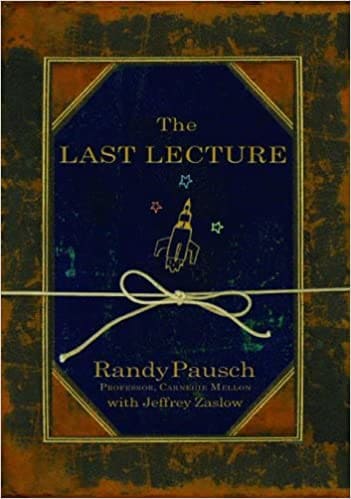 Plus, it already made me ask myself some questions… questions that I'd love to share here with you. So you can ask (and respond) yourself too.
How do you define yourself in the roles you play in life? In your job, family, in society? – As a friend, daughter, son, parent, student, teacher, employee, entrepreneur, etc.
What were your childhood dreams?
In a world where everything is more and more standardised, and where often, chasing your dreams might seem selfish or unrealistic, these are hard questions.
But always, hard questions are worth asking.
Also, in the intro, this piece caught my attention:
"engineering isn't about perfect solutions; it's about doing the best you can with limited resources".

– RANDY PAUSCH, The Last Lecture
And so, if we think about ourselves, human beings capable of great things but also limited – because we are, how can we do the best in life with our limited resources?
This looks very unfinished to me. But I'll leave it here as a reflection.
I might update it later when I finish the book.
If you feel like sharing, let me know your thoughts.
P.S.: quick update as I'm publishing this a few days after I first wrote it. I'm halfway through the book now, and it is definitely worth reading it! No drama 🙂 … so far.
Also, if you understand Spanish, we'll be commenting on the book today. LIVE on Instagram with Ana Merlino – my dear coach, soulmate and coordinator of the Cool Books Club.
If you're reading this later, go to my Instagram highlights, the recording will be linked there.
Bye now.
Love,
💛
Caro