It is never too late to start dreaming … Well actually, we start dreaming very early on and maybe that's what we end up doing most of the time. So I should rather start with: it is never too late to take action, and I firmly believe that's the case. However, and taking advantage of the collective euphoria, the beginning of the new year is a good time to combine those two things: dreaming and taking action, and once and for all, take the steps towards what you have always wanted, or maybe towards that new idea that is present in your mind lately.
Here I'd like to share a little story and a couple of tips for you to make of this one, your best year! … After 2020, a year that we all will remember, and that some are probably more than happy to leave behind.
First the story, in a nutshell 😉
I didn't always make New Year's resolutions, or plans for what I wanted to do with my life. What's more, the first time I made an inspiration board or dream map, it wasn't in December, or January; and the first few times I did them in New Years, it was just making a list of what I wanted, and leaving the rest to fate or my willpower…. That was almost 10 years ago.
For this reason, now, when it is almost mid-january, I would like to inspire you to dream. And not only that, to make a plan to fulfill your dreams, no matter how big or small they might be, they are your dreams and desires. And my greatest wish for you is that they come true.
2021 your best year!
Regardless of whether you have done it in previous years, I propose the following: let's start by thinking about what has already happened, this is how I did it this time, and it was what made it much easier to define my vision for the new year . So I invite you NOT to skip this step, and please remember to stay positive.
Step 1: write whatever comes first to your mind:
3 to 5 things that happened in the past year for which you are grateful.
3 to 5 wonderful things that happened in the world, in your environment, or to you particularly this year that has just passed.
3 small daily practices that made you happy, and that you want to keep in the new year.
3 life lessons you received this year.
Now, after making this reflection and with a grateful heart, ask yourself: What am I going to do to make this one my best year?.
And here is where you get to dream! I propose a table below that you can use for this exercise.
Step 2: write in the first column what you wish to do, or what you have always wanted. And then, next to each dream, a specific action you can do about it: what will bring you closer to that dream? What is it that you can start doing (or stop doing) today that aligns with what you want to achieve?
Tip: specify and describe actions, not thoughts, feelings or emotions.
| Dreams | Actions |
| --- | --- |
| Dream 1 | Action 1 |
| Dream 2 | Action 2 |
| Dream 3 | Action 3 |
write one or several actions for each dream
Step 3: once you have immediate actions for all of the dreams, assign a time frame and a space to each one. That is, when and where are you going to do each thing? And this is where dreams and wishes become resolutions! You are clearly determining and defining what you are going to do, when you are going to do it, and where you are going to do it.
| Dreams | Actions | When? | Where? |
| --- | --- | --- | --- |
| Dream 1 | Action 1 | Time | Space |
| Dream 2 | Action 2 | Time | Space |
| Dream 3 | Action 3 | Time | Space |
add a time and space for each action
Finally, this is the part that I like the most! But it is important that we make it last, and that you don't do only this. Because although it is beautiful and inspiring, it may not lead to action. So after writing and having your resolutions clear, look for images of everything you want and make a collage or a set of images, it can be physical, cutting pictures from magazines; or totally digital; and put it in a place where you can see it.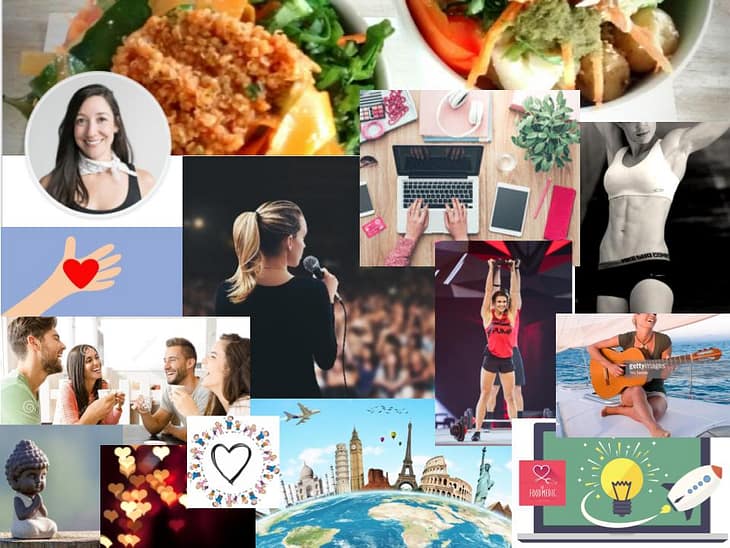 This is mine from 2 years ago, when I decided to change my career, travel even more around the world, and become a coach, a trainer, a speaker, and entrepreneur. And to end the story, the first time I did an inspiration board was more than ten years ago, and when I did it, I didn't have a job, I had no partner, I had traveled to only one country other than mine, and I had just spent all my savings and more. If you know me a little, you know a bit of what has happened since then! Precisely, I don't want you to think that it is easy for me because of the life I have now. The life I have now, I have been building it, and all these dreams that I had were not fulfilled in just one year, some of them did! And at that time I was surprised, but then I realised that I had created them myself.
All of the above to leave you with this message: it is totally worth dreaming! But do not stop at just that …
Happy New Year!!