A little while ago, as part of an exercise, I was making a list of activities in which I experience flow – you know? those things where you lose track of time and that you could probably do hours, without thinking about anything else. After mentioning my workouts of course! I started writing about scuba diving.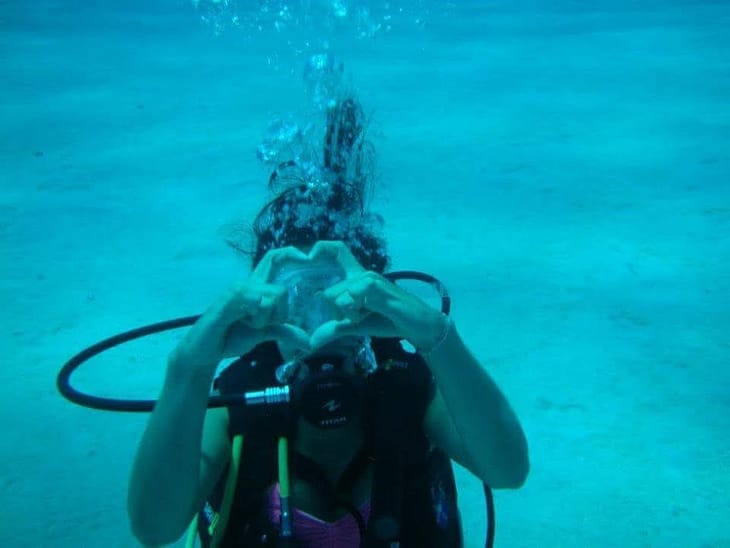 I am an Open Water & Deep dives scuba diver, and I've been diving in several oceans: Rosario and San Andres Islands in Colombia, Corn Islands in Nicaragua, Thailand & Tanzania; and although I do not practice this sport as often as I would like, it is something that I really enjoy, and the memories of the times I have been diving live very clearly in my mind.
However, scuba diving doesn come as easy for me. At first, the idea of ​​being more than 15 meters underwater scares me. It always does… I think of the first time I found myself down there, I looked up and became aware of the depth.
Every time I'm in a boat, preparing to go into the water, I feel very nervous. I don't want to be the first to jump into the water, and once I do, I want to go down very slowly. Not only to take my time to equalise, which is essential during the descent (pinching your nose with the fingers while blowing to open the ear canals and thus releasing the pressure of the water that forms in there); but also to feel comfortable. Because yes, diving is a lot of fun, but it also has its risks.
Once the initial part of slowly going down and checking with my bodies that everything is ok 👌 (you never dive alone), when I find myself down there in the middle of the deep blue and I begin to observe the beauty of the ocean: fish, corals, and the water itself, infinite, I lose all sense of timing and completely forget how scared I was just moments before. I love the dives and suddenly, when the master divers give us the signal to go up, over 40 minutes have passed without me realising!
Back on the boat, we divers talk about what we see down in the deep, while we had a snack and get warm in the sun. It's very exciting! And we just wait for the next immersion.
Now that I take the time to think and write about it, I realise that I've also taken a couple of people diving for the first time. And I wonder what they think of this experience now?…
It was one of my cousins, Nana, who gave me the gift of scuba diving for the first time, I thank her for that, and my cousin John Alejandro for having been our Dive Master then, and a couple of times more. He's been our guide underwater, transmitting a lot of tranquility and trust. I remember that that first time even my father dived with us! (My sister and I) … ahhh! I can't wait to go scuba diving again !!
But hey, now let's get to the point. I wanted to bring this topic up here, because it's about fear. The fear we experience when we are doing something new, or when we know that there is a risk in what we do … or perceive it as such. Many times these "risks" are very unlikely to happen. And so we deprive ourselves of doing something we want because we are afraid of something that may never occur.
If I hadn't experienced what it's like to be underwater and be able to appreciate the beauty of the ocean from its depth, and could only think about the risks that this can represent, I'd probably never have dared to go scuba diving. However, now I only know because I did it once, I took the chance, loved it and did it over and over again. It has not always been so beautiful, I have been scared, I have had to fight strong currents a few times, and there have been days when the sea is not so clear, there is no good visibility. Just as in life!
I made this reflection for myself and now for you too – we don't always feel comfortable, we can be scared and in the midst of uncertainty, but these cannot be reasons to miss out on what lies deep in our dreams. Because what is there can be fascinating and beautiful, challenging but totally worth it.
So, I give myself and I give you this advice … jump in! Go slowly if you need to, but not too much. And enjoy it 😉