• 9 minutes read •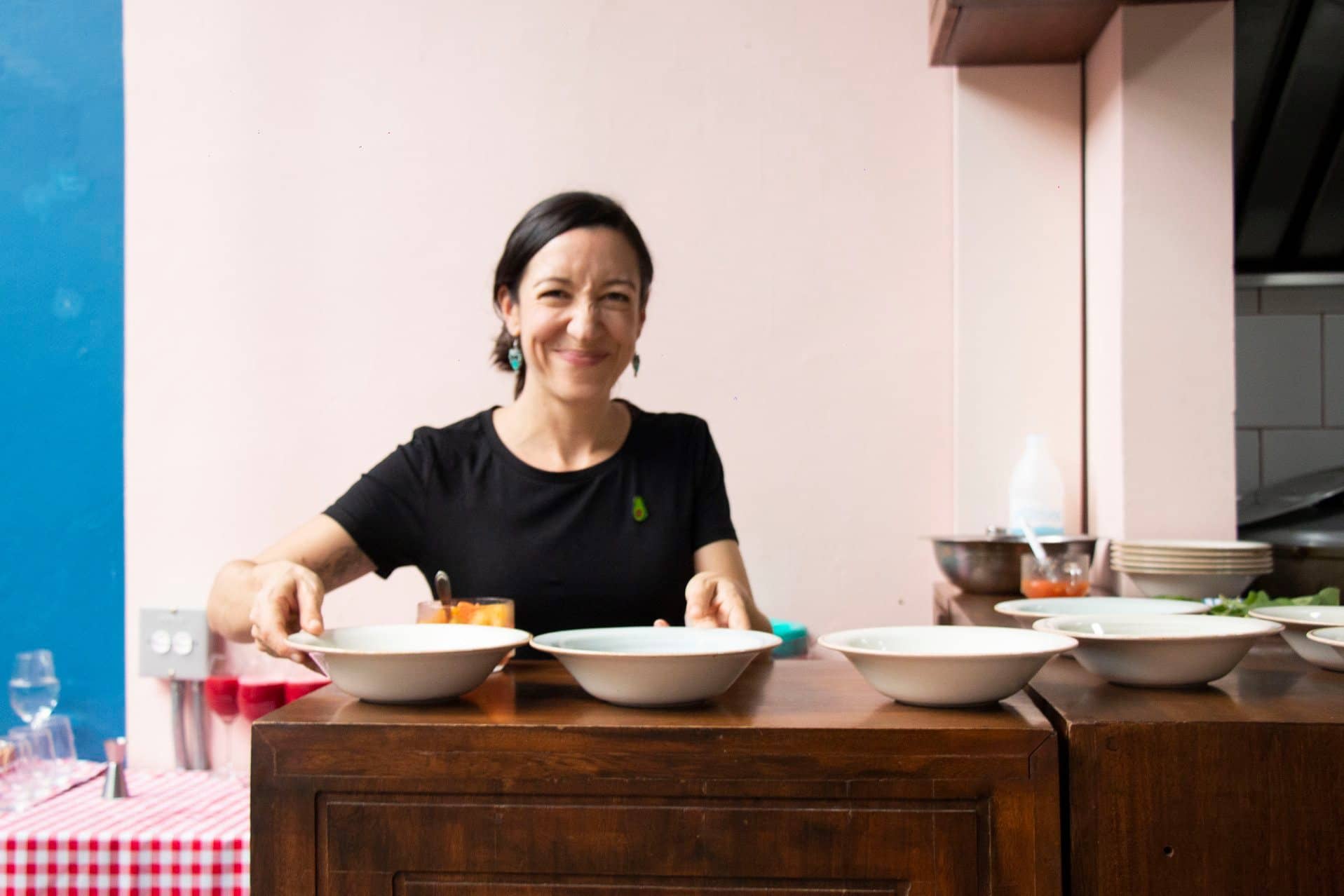 This was going to be a lot shorter… hope you can spare less than 10 minutes to read about food, gratitude and friendship.
Is that time of the year when we wish, give, share, spend the holidays with family and friends, and reflect on what we have done (or not) during the past year. I'm not going too far into this, however, I do want to take this opportunity to express gratitude, especially for my most recent new experience as a cook.
One of my girlfriends runs a monthly gastronomic event in collaboration with La Pascasia (a lovely art gallery & cultural house in Medellín). Alejandra is passionate about Colombian food and the history behind it, and so the event, No Solo de Pan Vive El Hambre, is all about rescuing Colombian traditions and having guests enjoying the tastes of our own ingredients – what she refers to as our national pantry (la despensa nacional), where a different cook is invited every time, not only to prepare their specialities but also to talk about their own story and explain the menu over an informal conversation right before the food is served.
I was gladly surprised to be invited to this event in November, to cook and of course to talk about my favourite subject! Can you guess?…. Right, healthy eating. 🙂 As I accepted, also offered my help for the precedent event in October, just to get a sense of how it was to prepare for such occasion and to learn some tips about cooking for that many people, almost 60!
As most of you might know I used to be a project manager, so long story short, my help came in handy and by the end of the event in October I was not only going to be hosting the next one in November, but also co-producing the following editions alongside Alejandra, and our friends at La Pascasia.
I love cooking! It is both a hobby and one of the key aspects of keeping myself healthy. I often cook for my family and friends, but most of the time it is for or with my husband (Simo) only. So this was a big challenge.
My turn came by fast. This was the third edition of the event, and the first one to be vegan – an eating style not so trendy in Colombia just yet. But since the nature of the event is educational, this was a perfect opportunity.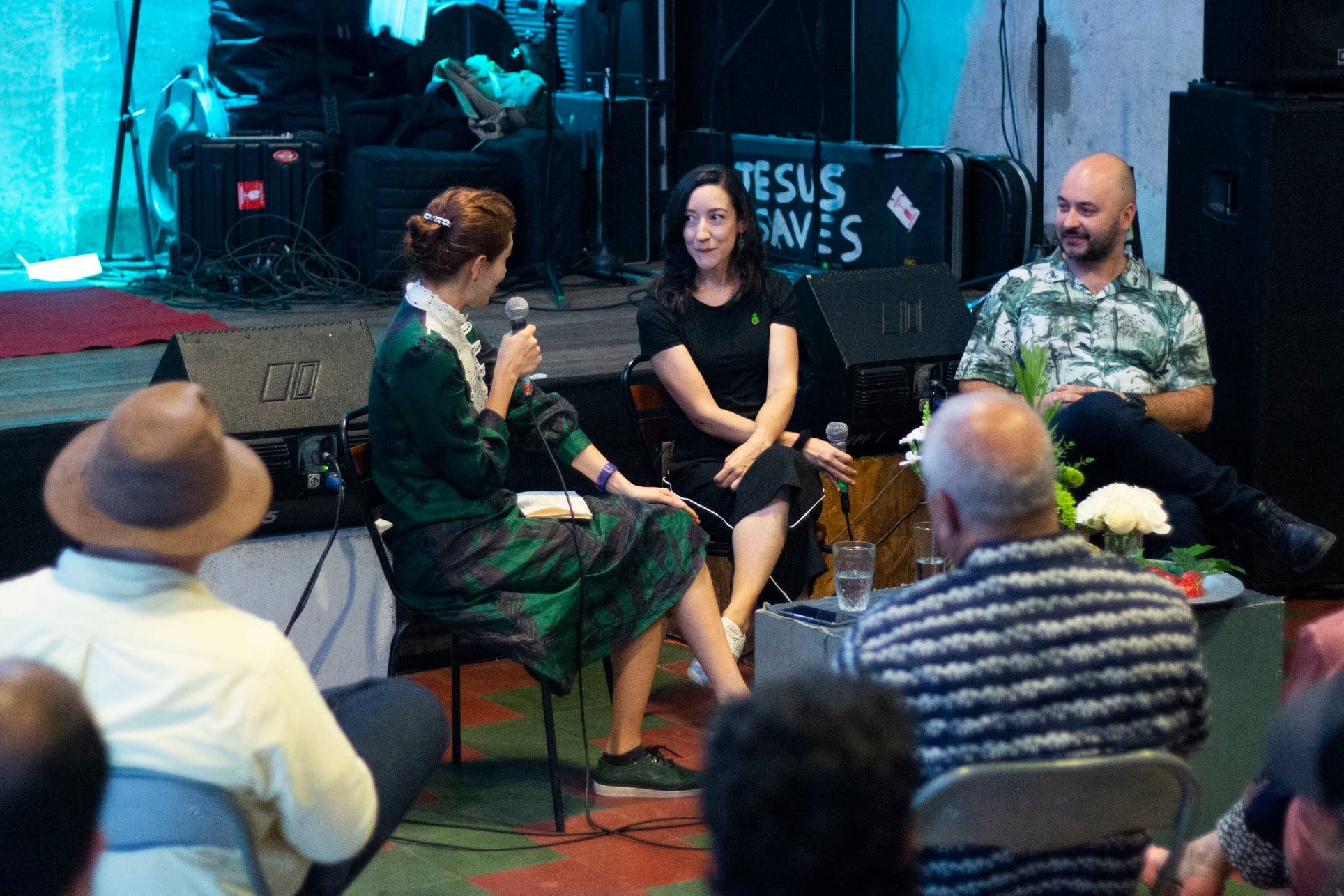 I'm not an expert in Colombian food, so this was educational for me too, and here's the first thing I learned:
Colombian food can be healthy!
My friend Ale lent me a book that has been for generations in her family, and is like the bible of Colombian food! El Gran Libro de La Cocina Colombiana. From there, I carefully chose preparations from different regions of our country, to design a menu that was both healthy and nutritionally balanced. Of course, I had to make some twists to lower on saturated fats and make them plant-based. Here's what we had as the degustation menu:
Starters
We started by honouring colombian tropical richness with a fruit cocktail or Macedonia, typical from the Antoquia region.
And for the sea lovers, we had a Ceviche inspired in the Caribean. With watermelon, avocado and algae.
We continued passing by the pacific coast, with this soup typical from Tumaco: avocado & oregano.
Main dish
The main dish took us all the way to the eastern planes of Colombia, Arauca and its stuffed pumpkin. To go with it, the typical "tamal" so common in several regions of our country and many places in Latinamerica, this with some special spices and capers.
Pairing
We also had a fresh beet salad and to pair this dish, blackberry juice with ginger.
Dessert
After all this mix of national flavours, we brought a fusion-dessert: uchuva strudel. The uchuvas are considered exotic fruits and they are typically from Andean region; small in size but big in flavour and even healing powers, they say. The strudel is originally from Austria and well known in Germany and all across European countries. Its name comes from the German word meaning whirlpool because of the way the fruit is rolled into the dough, originally apples.
Digestifs
And how not to end this degustation with a Colombian coffee, of course! But also with a very special "cherry on the cake": the Mistelas, a home-made digestive drink made with fermented fruit and aguardiente. It can be made with blackberries, coffee, herbs or other fruit. Ours were passion fruit and berries. Made at home by our friend and colleague Isaías Arcila.
Remember that this is all plant-based, free of dairy and low on saturated fat; containing all macro (carbs, fat & protein) and micro-nutrients (vitamins, minerals & antioxidants) optimal for our health!
Something I've come to know from the Italian cuisine, which is one of my favourites, is that no matter how simple the dish is, the quality of the ingredients is critical! So this takes me to the second learning:
Going back to the market
I really like food markets! These are one of my favourite places when I travel, however, when at home, wanting to be practical and save time, I usually order my grocery online or on the phone from local stores. For this event, I went back to the farmers market and fell in love with everything there! Is not only about seeing the people who are the ones growing your food, or being able to ask where everything comes from! About also about the colours, smells and the freshness of everything! Not to mention the good prices!
When the shopping was done, I started to prepare for the big day, three days in advance. I had tried all the menu items beforehand, and I was ready! However, I couldn't help but be nervous about it. In addition to inviting our acquaintances and friends, we got bookings also through online advertising. All of our guests where confirmed, most of them non-vegans.
People are more willing to try than you think
I wasn't expecting this. I thought that most of our guests this time would be vegetarians and vegans. Instead, we had many of our omnivorous friends coming to try out our plant-based versions of Colombian food. And that made me very happy! We never advertised the menu as vegan, nor plant-based or vegetarian, so I'm not sure if everyone knew about this particularity, but they were happy to come, open to trying. And according to the after-comments, they were really satisfied.
So even though advocating for healthy, plant-based food can feel like a battle sometimes, the best way to show its benefits is by example, and by giving options so people can choose.
The most important ingredient is love
Cooking takes time and effort but most of all, love. We were in the kitchen from 6 AM. I had Gladys as my main helper and two more girls, Paulina & Maria José, chopping and prepping. We made a great team!
Everything ran smoothly until the house was full and the waiters started to ask for more dishes and drinks to be served. The rhythm of the kitchen is frenetic, it feels like it's going to go out of control at any moment. But on the outside, everyone is happy, talking, enjoying their food or drinks while the next dish is about to arrive at their tables.
I know things can go wrong sometimes, but this wasn't the case. I can only be grateful for all the people, the partners, and those who came as guests, who trusted my cooking and who believe in "eating as a political act" (in Alejandra's words). I offer thanks for another good first time, and for having the chance to work in partnership with my friends.
For more first times in 2020, happy new year!